Hydra: "was an ancient nameless serpent-like chthonic beast that possessed many heads — the poets mention more heads than the vase-painters could paint, and for each head cut off it grew two more"
It's also the name for my new project(s), because as soon as I finish one job, it's time to start two more.
I recently picked up an '85 4runner frame, that's been sand blasted, patched, & POR15'd. An '88 extra cab body, and an '82 front axle.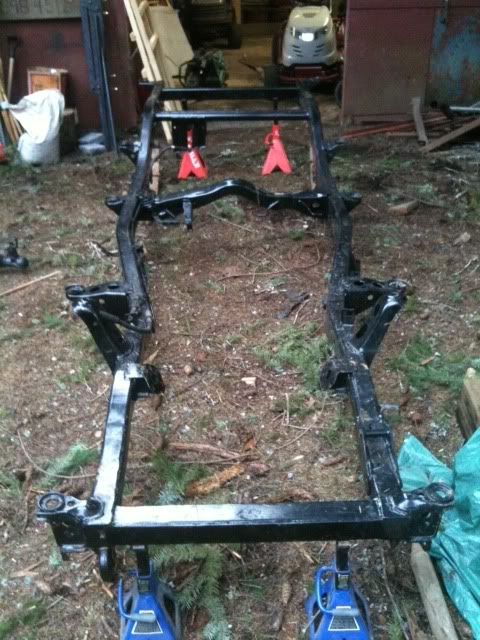 [/IMG]
Originally I wasn't quite sure if I was just going to swap my 86 runner body over to the frame, and build a pick up on my ifs chassis. But after a bit of thinking about it, and changing my mind a number of times, my 4runner is staying on the ifs frame, and I'll make the pick up on the '85 frame. The 4runner is good for road trips, and the p/u will be for wheeling.
So after dropping all my spare cash on parts & hiring my buddy's flat deck to go and pick it all up, I've been cruising along doing jobs that don't coast anything or can be accomplished out of materials that are on hand. Cleaning parts, dis-assembling the front axle, organizing my workshop, etc etc.
The first day I made a pair of new body mounts, as the xcab needs the rear two moved back a few inches. I'm leaving the existing ones in place though, maybe tie the cab into those as well, or use them for mounting some rock lights.
This is also the first time that I've been working on a solid front axle, so I've been taking my time pulling the housing apart, cleaning & degreasing all the parts, & generally getting familiar with it. Next up is the wire wheel & zip cut to prep the housing for armour. I've been looking at pictures on the web, and it looks as though I need to cut off the tower on the top side of the axle in order to put on an upper gusset.
I've also been working on my 22r, the route I'm going to keep things simple & cheap (I have both a 22r & a 22re on hand, but the 22r is all buttoned up ready to go. I'll keep the RE as a spare for the 4runner.
The highest priority things for me right now are getting the front axle all rebuilt and getting the frame to a rolling state, it'll be nice to be able to roll it in & out of the shop. Plus then I can start on the cab, or the drive train, or the motor, or the brake lines, or the...., or....... Like I said at the beginning. It's called the Hydra.....
Pics to follow when I'm on the main computer.