$300 - ZODI Hot Vent Tent Heater, battery included - 20,000 BTU
Helping a friend (located in North Delta) who is selling his Zodi Tent Heater HP, which he has never used. Still in the box, and includes a battery.
Asking $300.00
The High-Performance 20,000 BTU model is the #1 pick for hunters. Ideal for tents, trailers and use in environments of extreme cold. A solid performer - this Hot Vent designed for four season camping. High output sealed heat exchanger keeps dangerous gases outside tent. Convenient storage bag stores system between use. Fan requires 12 Volt battery (included, yes, battery is included!).
BENEFITS:
20,000 BTU High Performance Hot Vent tent heater
Provides unlimited SAFE heat instantly (Heater stays outside)
Comfortable - increases input air temperature in seconds
Case lid detaches to hold propane cylinders
Powerful 12 volt blower provides great air flow (requires 12 volt battery)
Connects to all 12 volt batteries or power source
3 ft flexible input & output accordion style hoses delivers hot air
SAFE design - heater stays outside and no carbon monoxide enters tent
Enjoy 3 to 8 hours of heat with one 16 oz propane cylinder
With heater outdoors no water vapor or moisture is trapped in tent
Convenient gear bag stores system between use and transport
Stainless steel burner construction for extra durability
Great for tents, ice fishing, RVs and 4 season use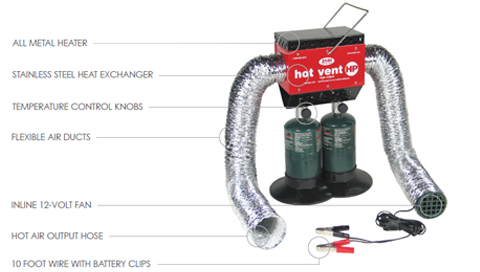 Thanks for looking, and I'll do my best to reply asap. Cheers, and thank you.
----
Formerly known as Archstud on here, but I changed ISP's and can't get my old profile back